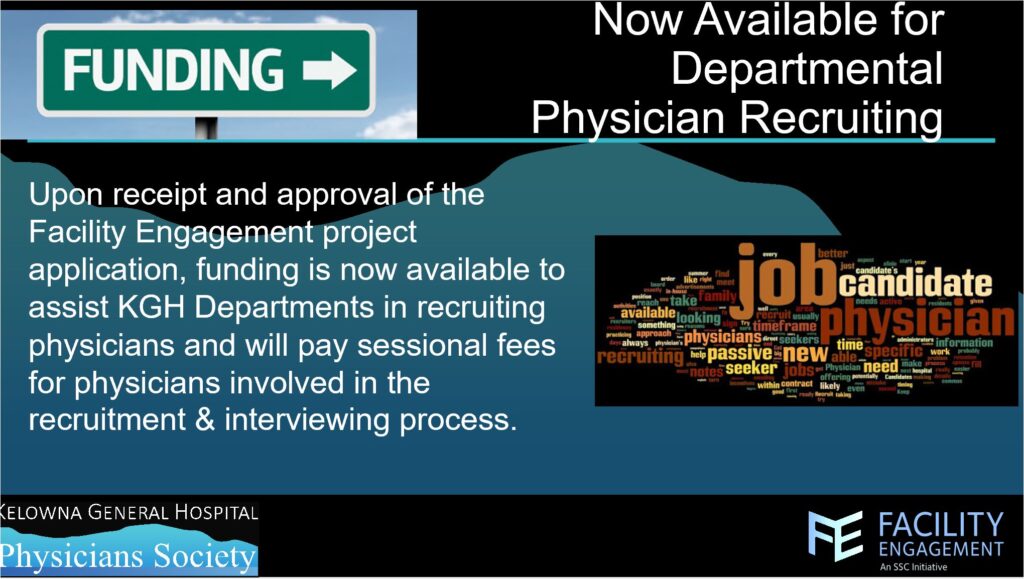 The KGH Physicians Society 'Frequently Asked Questions' sheet (click or tap here) outlines the guidelines for recruitment funding, which can be used to assist all KGH Departments and Divisions in recruiting physicians as follows:
Recruitment funding will be provided each fiscal year, dependant on monies available.
The number of FTEs that are being recruited should be noted on the Facility Engagement application.

Sessionals for up to a maximum of 15 hours per FTE being recruited will be paid. The Project Lead will be responsible for appropriate allotment of the 15 hours amongst the recruitment team.

Development of recruitment advertisements.

Physician time spent recruiting and interviewing potential candidate(s). PLEASE NOTE:  sessionals cannot be claimed if recruiting is part of the recruiter's role or job description, i.e., department head.

Recruitment updates will be provided to the KGHPS Working Group by the Project Lead on a quarterly basis with a final report once the project is completed. Please include in the report(s) the FTE recruitment numbers achieved and overall progress to date.

Funding will not be provided to cover travel or meal/entertainment expenses.

If all funding is utilized during the course of the fiscal year, another application will not be considered until the next fiscal year at which time another Facility Engagement project application must be submitted to the KGHPS Working Group for review/approval.

Sessional claims should be entered into FEMS as the work progresses with an explanation of work done rather than one large claim at the end of the project.
Please note:  Interior Health has three Recruitment Guidelines which you may find helpful as you begin the recruitment process in conjunction with IH.  You can find those resources HERE.  A Facility Engagement Project application must be completed for review by the KGHPS Working Group (click or tap here to access the form).  As well, feel free to email us for more information at KGHPhysiciansSociety@gmail.com.